FREE SHIPPING FOR UYO ORDERS today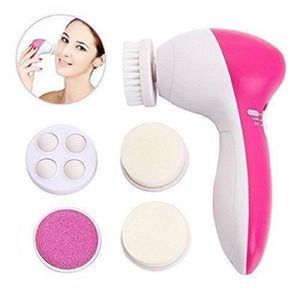 5 in 1 face unique wash
face wash the miracle tools. Carefully crafted to perfection for those who dare.
Use the callus remover to keep your skin young and fresh. give your face pampering it deserves.
safest way . . .
COMPLETE beauty EXPERIENCE
In facts, face is the one thing that  forms the very first impression on people.
5-in-1 beauty facial face body electric cleaning brush cosmetic skin care massage meet your need of both cleaning and massage on face body. Effectively clean through your pore prevent whelk and fade the black eye.
Over 10,000 happy customers
Exfoliate dead skin cell to reveal radiant and youthful skin
Kickstarts you for a productive day
Reduce and erase fine lines and blackheads
Suitable for all types of skin
Smooths skin texture, skin refresh, restores soft skin
HAPPY CUSTOMERS REVIEWS
 4.5/5
Obviously the best thing I have bought in 2023
 4.5/5
It is so unique and my transformation surprised everyone around me 
 4.5/5
I love this face washer. the best for your beauty kits.
CHOOSE YOUR PACKAGE
Select Your Package Below…
REGULAR
BUY 1
N6,500
Normal PRICE = n9,000
SILVER
BUY 2
N12,000
Normal PRICE = N17,000
GOLD
BUY 3
N24,000
Normal PRICE = N35,000
HOW IT WORKS
STEP 1: Wash your face with lukewarm water
STEP 2: Moisturize your face
STEP 3: Use your fingers in circular motion to gently massage your face
STEP 4: Five attachments included.
Soft brush: To clear up all the scurf clings on the surface
Rolling massager: To make better blood circumstances from skin aging 
Make up sponge: to massage and clean skin
Latex sponge_soft: Latex brush for eyes and cheeks
Crude polish accessory: To rip the tough skin
PLACE ORDER YoUR BELOW…
You're one step away from getting a product that will make you more beautiful. (Payment is made on delivery point)
Get A product that truly works and gets results!
This Site Is Not A Part Of The Facebook Website Or Facebook Inc. Additionally, This Site Is Not Endorsed By Facebook In Any Way. FACEBOOK Is A Trademark Of FACEBOOK, Inc.
© 2023 Kratilabs Ltd.